The UK's first electric-only car charging station has now opened in Braintree, Essex. This marks another huge milestone in the country's transition away from vehicles powered by traditional combustion engines. It is another indication that the transportation and energy industries are preparing to handle as many as 30 million electric cars on our roads by 2040.
The EV charging station is operated by Gridserve and is the first of over 100 Electric Forecourts that they are building over the next five years. The EV Charging Forecourt is comprised of 36 rapid EV chargers, which are powered only by renewable energy. Power is drawn from the solar panels that are installed on the station's roof and the company's network of solar farms. On-site is also a 6MWh battery, which helps to balance the local power grid and store excess energy produced by the solar panels so it can be used during peak times and when the solar panels aren't generating electricity.
The charging technology is among the fastest available commercially, delivering up to 350kW of power. This is enough to deliver 200 miles of range in just 20 minutes, according to Gridserve.
With a starting cost of £0.24 per kWh of energy, Gridserve estimates an average-sized electric car can be charged from 20% to 80% for under £10. They claim this is the "lowest ultra-high power charging rates on the market today".
The founder and CEO of Gridserve, Toddington Harper, said Gridserve has overhauled "the traditional petrol station model for a net-zero carbon world and is delivering the confidence people need to make the switch to electric transport today — a full decade ahead of the 2030 ban". He went on to say "Charging has to be simple and free of anxiety".
Gridserves EV Charging Forecourts will also provide lightning-quick wifi, and a range of "Best of British" stores including Boots, Costa Coffee, WHSmith and the Post Office. Some EV Forecourts will also have children's play areas, wellbeing areas and business meeting pods.
Toby Keir, Managing Director of WHSmith said: "At WHSmith, we have been serving customers on their journeys for over 200 years and we understand how important convenience is to people on the go. We're therefore delighted to be partnering with GRIDSERVE's Electric Forecourt to deliver a new first-class customer experience, with fantastic service and a tailored retail offer including WHSmith, Post Office, Costa Coffee and Booths. It's a great concept and we look forward to playing our part over the next hundred years with the future of electric cars."
The Transport Minister, Rachel Maclean, said: "As we accelerate towards cleaner and greener transport, I'm delighted to see the future of service stations being brought to life with the opening of the UK's first all-electric forecourt". She went on to say "There has never been a better time to make the switch".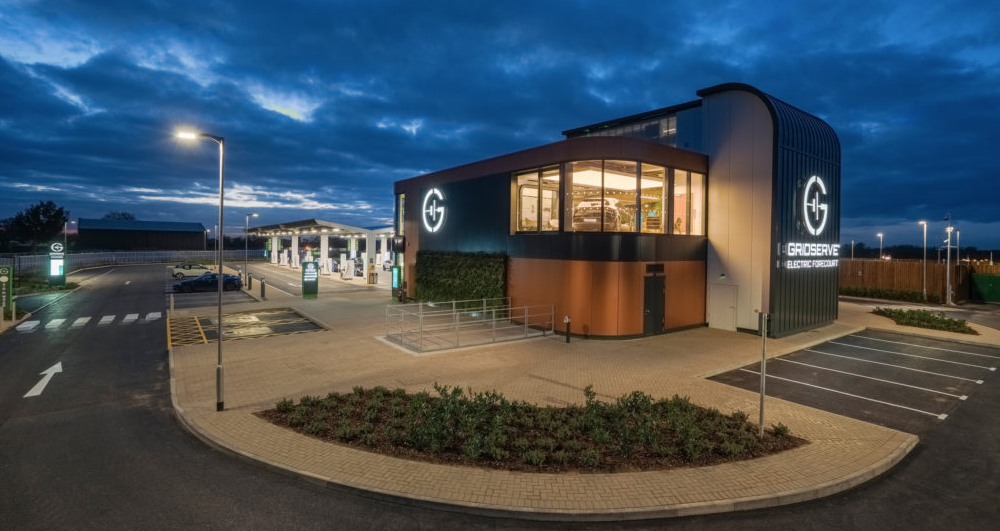 EV Charger Installer
If you are interested in having an EV Charger installed or have any questions then call us on 0151 649 8350. Alternatively, you can email us at info@applegarth.co.uk. You can also apply for an EV Charger installation using our OLEV Grant application form. We install EV Charge points across Wirral, Liverpool, Merseyside, Chester, Manchester, Cheshire, the North West & North Wales.