Tesco's Chester superstore has become the 200th Tesco store in the country to have free-to-charge 7kw EV charge points installed.
Pod Point, Volkswagen and Tesco have partnered together to create the largest retail EV charging network in the UK, giving EV drivers a place to charge their vehicles whilst doing their weekly shop.
Since the launch of the EV charging network in 2019, over 669 MWh of energy has been provided to power customers electric vehicles. This is enough energy to power all of the homes in Chester for more than 24 hours! It is also equivalent to saving 374,391 kg of CO2 tailpipe emissions, the amount produced by about 245 petrol cars driven over a 12 month period.
The rollout of the EV charge points at Tesco stores is rapidly expanding the UK public charging network and is tackling the number of locations with limited charging facilities (less than 10 chargers per 100,000) such as Wirral, Barnsley and Wellingborough.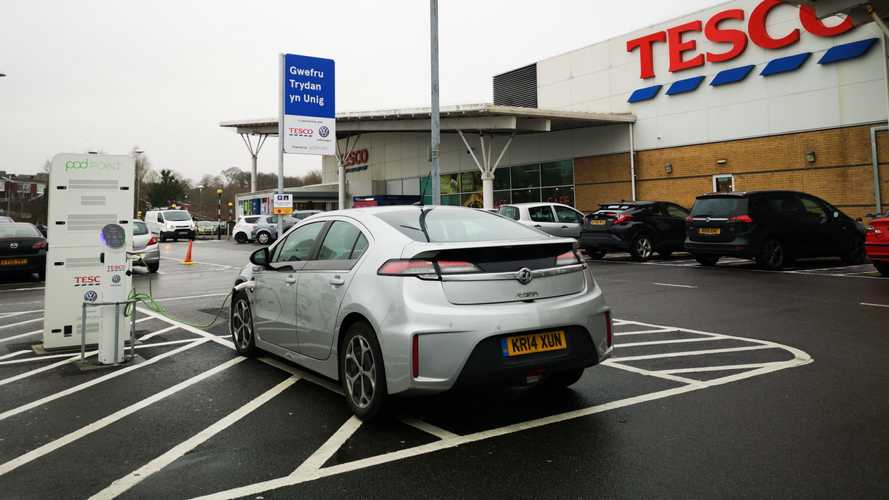 Volkswagen UK's head of marketing, Sarah Cox, said: "It's fantastic that we've reached another milestone in our partnership with Tesco and Pod Point. There are now 200 stores with chargers that drivers of any electric vehicle can use for free.
"As the partnership continues, and more stores roll out new chargers, we are really proud to be breaking down barriers to EV ownership and demonstrating to people that living with an EV is easy."
Tesco CEO for UK and ROI, Jason Tarry, said: "We're now well on our way to achieving our ambition of installing more than 2,400 EV charging bays across 600 Tesco stores.
"The 200th store is a landmark moment as we get back up and running with this programme after the Covid-19 pandemic meant we had to delay our plans.
"Providing customers with charging points offers them a sustainable choice and giving them the opportunity to charge their car for free while they shop is a little help to make this easier."
Founder and CEO of Pod Point, Erik Fairbairn, said: "Our partnership with Tesco and Volkswagen is making it easier for drivers to go electric and will help speed up the transition to EVs. Vehicle electrification is one of the most powerful ways to stop travel damaging the earth."
Tesco & Volkswagen Partner To Install EV Charger Network
Get In Touch
Interested in an EV charger for your home or business? Here at Applegarth Engineering, we specialise in the installation of EV chargers for domestic & commercial clients. We install EV chargers in Wirral, Liverpool, Cheshire, Manchester, Lancashire, North Wales and right across the UK. Call us today on 0151 649 8350 to learn more. Alternatively, you can email us at info@applegarth.co.uk and a member of our team will get back to you as soon as possible.