In recent years, electric cars and vehicles have rapidly gained popularity as a sustainable and cost-effective mode of transportation. With the increasing adoption of EVs, the demand for charging infrastructure has skyrocketed. While residential charging solutions are essential, installing an EV charge point at your workplace can provide numerous benefits for both employees and employers. In this blog post, we will explore the advantages of having an EV charge point at your workplace and why it's a smart move for everyone involved.
Convenience and Accessibility
One of the significant advantages of having an EV charge point at the workplace is the convenience it offers to employees who drive electric vehicles. Commuting to work often accounts for a significant portion of an EV's daily charging needs. By having a charge point at work, employees can conveniently charge their vehicles while they work, eliminating the need for separate charging trips or concerns about range anxiety. This accessibility reduces the barriers to EV ownership and encourages more employees to consider electric vehicles as their preferred mode of transportation.
Employee Satisfaction and Retention
Providing an EV charge point at your workplace demonstrates a commitment to employee satisfaction and well-being. It showcases your organisation's forward-thinking approach and commitment to sustainability. In a world where environmentally conscious practices are increasingly valued, offering employees the opportunity to charge their EVs at work can enhance job satisfaction, productivity, and employee loyalty. Moreover, it can serve as a powerful recruitment tool, attracting top talent who prioritise eco-friendly commuting options.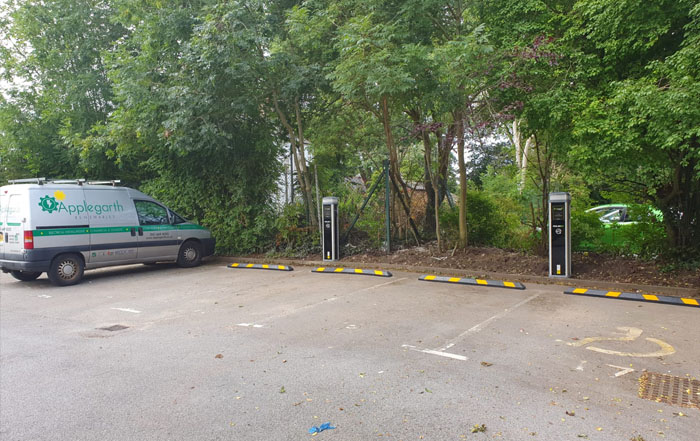 Environmental Impact and Sustainability
The transportation sector is a significant contributor to greenhouse gas emissions. By installing an EV charge point at your workplace, you actively participate in reducing carbon footprints and promoting sustainability. EVs produce zero tailpipe emissions, meaning that each employee charging at work helps to offset the environmental impact of traditional internal combustion engine vehicles. By encouraging employees to switch to electric vehicles, you contribute to a greener future and align your organisation with sustainable practices.
Cost Savings and Incentives
Installing an EV charge point can also be a financially wise decision for businesses. Many councils and utility companies offer incentives, grants, and tax credits to promote the installation of workplace charging infrastructure. By taking advantage of these programs, the cost of installing the EV charge point can be significantly reduced or even offset entirely. Additionally, some companies choose to charge employees for the electricity used, generating a new revenue stream that can help cover maintenance costs.
Future-Proofing and Technological Leadership
Embracing electric vehicle infrastructure at the workplace positions your organisation as an industry leader and innovator. As EV adoption continues to rise, businesses that are already equipped with charging facilities will have a competitive edge over those without. With the advancement of electric vehicle technology, integrating EV charging into your workplace now ensures that you are future-proofing your organisation and staying ahead of the curve in the evolving mobility landscape.
Conclusion
Installing an EV charge point at your workplace is a strategic move that brings numerous benefits to both employees and employers. The convenience, employee satisfaction, environmental impact, cost savings, and technological leadership associated with workplace charging are compelling reasons to make the switch. By investing in EV charging infrastructure, you actively contribute to a sustainable future, position your organisation as a leader in the industry, and foster a positive work environment. So, embrace the power move of workplace EV charging and drive your organization towards a greener and brighter future.
At Applegarth we install EV charge points across Liverpool, Wirral, Chester, Cheshire and North Wales for homeowners, businesses and local authorities. For more information or for a free no-obligation quotation call us today on 0151 649 8350 or email info@applegarth.co.uk and a member of our team will get back to you as soon as possible.