Typical households, with solar panel installations, use less than 50% of the electricity they generate. The excess energy is sent back to the national grid. Battery storage for solar panels allow you to store the excess electricity your solar panels generate, for use later in the day.
Here at Applegarth Engineering we are highly experienced in the installation of solar battery storage systems. We have been installing solar batteries in Wirral, for both homeowners and businesses, for several years.
Battery Storage For Solar Panel Systems
Battery storage for solar panel systems works by diverting electricity to charge the solar batteries when the system detects that it is generating more electricity than what you are using. This continues until either the solar batteries are fully charged or you start to use more electricity than your solar panels are generating. Energy from the battery storage system will then be used before paying for any extra energy from the grid.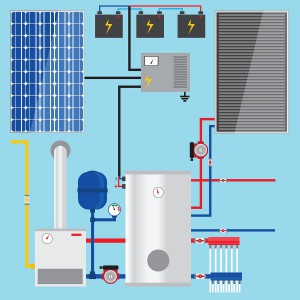 Why Install Solar Battery Storage?
Store Energy –  Unused electricity is stored for use in the evenings or in the event of a power cut
Reduce Your Energy Bill –  Solar battery storage systems can save you a considerable amount of money on your annual electricity bills.
Eco-Friendly – Solar batteries are eco-friendly and can help reduce your carbon footprint.
Earn Money –  You can get paid to provide grid balancing services (> 50 KW)
Scalable Systems – It is easy to add and remove solar batteries to suit your requirements
Low Maintenance –  Solar batteries require very little maintenance and are known for their reliability
Get In Touch
If you are interested in a solar battery storage system, or have any questions, call us on 0151 649 8350. Alternatively, you can email us at info@applegarth.co.uk and we will get back to you as soon as possible. We install solar battery storage systems in Wirral and across the surrounding areas.