At Applegarth Engineering, we are dedicated to transforming the way you harness and utilise solar energy. Our cutting-edge solar battery storage solutions empower homeowners and businesses to take control of their energy consumption, maximise their solar investment, and contribute to a greener, more sustainable future.
Why Choose Solar Battery Storage?
Investing in solar battery storage is a wise decision that brings numerous benefits. Here's why you should consider integrating battery storage with your solar energy system:
Energy Independence
By storing excess solar energy during sunny days, you can have a reliable energy supply even during typical cloudy Lancashire weather or at night. Reduce your reliance on the grid and utility companies, gaining greater control over your energy usage.
Maximise Solar Investment
Solar panels generate the most electricity during peak sunlight hours when energy demand might be low. With a solar battery, you can store this surplus energy and use it when the sun isn't shining, effectively increasing your solar investment's overall value.
Energy Cost Savings
By relying more on your stored solar energy and drawing less electricity from the grid, you'll see significant savings on your energy bills. Over time, these savings can add up and lead to a quicker return on investment.
Backup Power during Outages
In the event of power outages, a solar battery system can provide crucial backup power, keeping essential appliances and devices running. This ensures your comfort and safety, particularly during emergencies.
Environmental Impact
Reducing your dependence on fossil fuels by utilising stored solar energy helps lower your carbon footprint and promotes a cleaner environment. Embrace sustainable energy solutions and be a part of the global effort to combat climate change.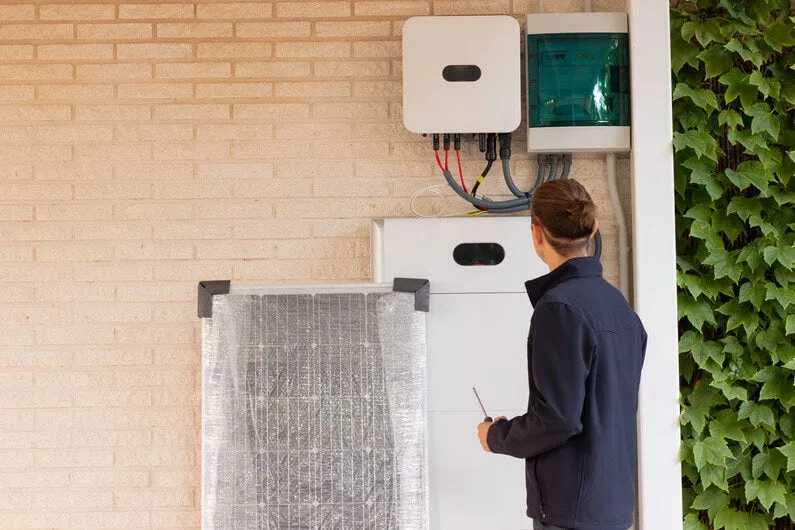 Our Solar Battery Storage Services
At Applegarth Engineering, we offer a comprehensive range of solar battery storage services designed to meet your unique energy requirements. Our team of skilled engineers will guide you through the entire process, making the transition to solar battery storage seamless and hassle-free.
Customised Solutions
We understand that every property has different energy needs. Our experts will conduct a thorough assessment of your energy consumption patterns and design a solar battery storage system tailored to meet your specific requirements. This ensures that you get the most out of your solar investment.
Expert Installation
Our experienced technicians handle the installation process with precision and care. We ensure that your solar battery system is seamlessly integrated with your existing solar setup, optimising its performance and efficiency.
High-Quality Products
We collaborate with industry-leading manufacturers to provide you with top-of-the-line solar battery technologies known for their durability and reliability. You can trust that your investment in our solar battery storage solutions will serve you well for years to come.
System Monitoring
Stay informed about your energy consumption and solar battery performance with our intuitive monitoring tools. Accessible through your smartphone or computer, you can track your system's efficiency and energy savings at your convenience.
Maintenance and Support
Our commitment to your satisfaction doesn't end after installation. We offer regular maintenance services to ensure that your solar battery system operates at its best. If you have any inquiries or concerns, our responsive support team is always available to assist you promptly.
Advancing Towards a Sustainable Future
At Applegarth Engineering, we believe in the power of solar energy to revolutionise the way we power our homes and businesses in Lancashire. By choosing our Solar Battery Storage service in Lancashire, you are not only investing in your financial future but also making a positive impact on the environment.
Solar energy is a clean, renewable resource with vast potential to reduce greenhouse gas emissions and combat climate change. By embracing solar battery storage solutions, you actively contribute to the transition towards a more sustainable and eco-friendly energy landscape.
Join the Solar Revolution Today!
Take the first step towards energy independence and a greener future by embracing our Solar Battery Storage service in Lancashire. Our team of dedicated engineers are eager to assist you in your journey towards a more sustainable and energy-efficient lifestyle.
Contact us today to schedule a consultation with our experts. Let's work together to unlock the full potential of solar energy and make Lancashire a beacon of renewable energy innovation and environmental stewardship. With our Solar Battery Storage solutions, the future is bright, clean, and powered by the sun! Call us today on 0151 649 8350 or email info@applegarth.co.uk and a member of our team will get back to you as soon as possible.