Welcome to Applegarth Engineering, your trusted provider of Solar Battery Storage solutions in Chester. We are committed to revolutionising the way you harness and store solar energy, empowering you to take control of your energy consumption while contributing to a sustainable future. With our cutting-edge solar battery storage systems, you can maximise the benefits of your solar panels, reduce energy costs, and ensure a reliable power supply even during outages.
Why Choose Solar Battery Storage?
Solar battery storage is a game-changer for residential and commercial properties alike. Here are some compelling reasons why integrating battery storage with your solar setup is a smart choice:
Energy Independence
With solar battery storage, you can store excess solar energy generated during sunny days and use it when the sun isn't shining. This reduces your reliance on the grid and gives you greater control over your energy usage.
Maximise Solar Investment
Solar panels produce the most electricity during peak daylight hours, often when energy demand is lower. By storing this surplus energy, you can use it during peak demand periods or at night, effectively increasing your return on investment.
Energy Cost Savings
By relying more on your stored solar energy and drawing less electricity from the grid, you can significantly lower your energy bills. Over time, these savings can lead to substantial financial benefits.
Power Backup during Outages
In the event of power outages, a solar battery system can provide reliable backup power, keeping essential appliances and devices running. This is especially valuable during emergencies or adverse weather conditions.
Environmental Impact
Utilising stored solar energy reduces your carbon footprint, contributing to a cleaner and more sustainable environment. By embracing solar battery storage, you are actively supporting the global effort to combat climate change.
Our Solar Battery Storage Services
At Applegarth Engineering, we offer a comprehensive range of solar battery storage services designed to suit your unique energy needs. Our team of experienced engineers is dedicated to providing you with top-quality solutions, ensuring a seamless transition to solar battery storage.
Personalised Solutions
We understand that every property has different energy requirements. Our experts will conduct a thorough assessment of your energy consumption patterns and design a customised solar battery storage system to meet your specific needs.
Expert Installation
Our skilled technicians handle the installation process with precision and care. We ensure that your solar battery system seamlessly integrates with your existing solar setup, optimising its performance and efficiency.
High-Quality Products
Partnering with leading manufacturers in the industry, we offer state-of-the-art solar battery technologies known for their reliability and durability. Our products are designed to withstand the test of time, providing you with long-term benefits.
Monitoring and Control
Stay informed about your energy consumption and solar battery performance with our advanced monitoring tools. Accessible through your smartphone or computer, you can track your system's efficiency and energy savings at your convenience.
Comprehensive Maintenance
To ensure that your solar battery system operates at its best, we provide regular maintenance services. Our team will inspect, clean, and optimise your system to maximise its efficiency and longevity.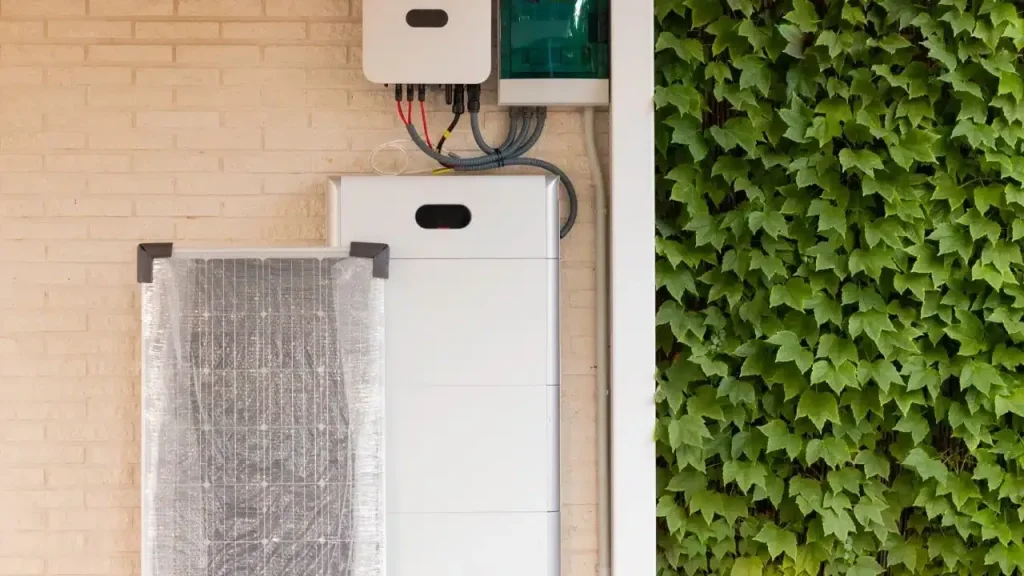 Advancing Towards a Sustainable Future
At Applegarth Engineering, we believe in the potential of solar energy to transform the way we power our homes and businesses in Chester. By embracing solar battery storage solutions, we actively contribute to the global transition towards a cleaner, more sustainable energy landscape.
Renewable energy sources like solar power play a vital role in reducing greenhouse gas emissions and combating climate change. With our Solar Battery Storage service in Chester, you become part of the solution, helping to build a greener and more environmentally friendly community.
Experience the Power of Solar Battery Storage Today!
Take the first step towards energy independence and environmental stewardship by embracing our Solar Battery Storage service in Chester. Our team of dedicated electrical engineers are ready to guide you through the process and help you make the most of solar energy.
Contact us today to schedule a consultation and learn how our solar battery storage solutions can transform your property. Let's work together to harness the power of the sun and create a brighter, cleaner future for Chester and beyond. With Applegarth Engineering, sustainable energy is within your reach! Call us today on 0151 649 8350 or email info@applegarth.co.uk and a member of our team will get back to you as soon as possible.