EV charge points will legally be required to be installed as standard in new build homes and workplaces in England from next year, the Prime Minister has announced. 
Boris Johnson made the announcement during a speech to the Confederation of British Industry (CBI). The statute will apply to developers of new homes (including flats and dwellings created from a change of use), office buildings and retail sites. It will also apply to developers of renovations where there are ten or more parking spaces. The new law will make England the first country in the world to require all new homes to have EV charge points.
Using a normal wall plug at home to charge an electric car can be a time-consuming process. The RAC says it is "by far" a better option to have a dedicated EV charger.
The British government has estimated that new laws will mean up to 145,000 extra EV charge points will be installed across England annually, in the run up to the ban of new petrol and diesel cars in 2030. This builds on the 250,000 residential and workplace EV charge points that the government has supported to date.
It has been common knowledge that for many years the number of existing and planned EV charge point installations in England has been outpaced by the growth of the number of Electric Cars on our roads. Last years budget seen the Chancellor announce that the government was drawing up plans to ensure that electric vehicle drivers are never more than 30 miles away from rapid charging infrastructure.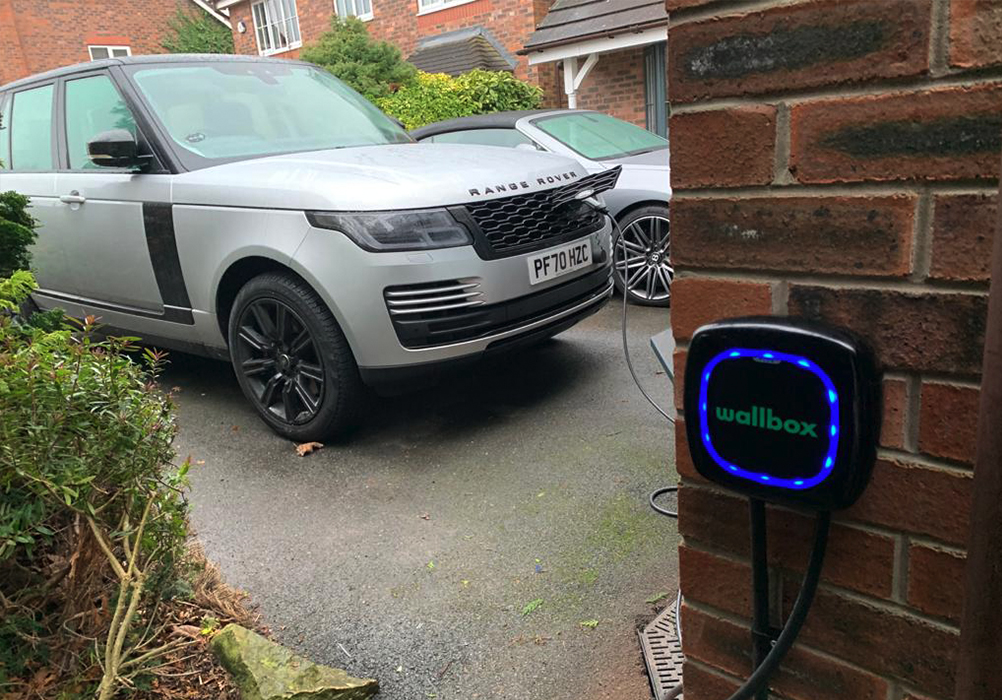 Speaking to the Confederation of British Industry, the Prime Minister Boris Johnson, said "This is a pivotal moment – we cannot go on as we are. We have to adapt our economy to the green industrial revolution."
"We have to use our massive investment in science and technology and we have to raise our productivity and then we have to get out your way."
"We must regulate less or better and take advantage of new freedoms"
The Labour Party reacted to the statement by saying it does nothing to solve the "appalling divide" in EV charge points between the North and South of the country.
The shadow business secretary, Ed Miliband, Said: "The government is failing Britain's automotive companies and workers".
"Rather than step up to support the car industry in the global race for green technologies, ministers have stepped back and left manufacturers, workers and the public on their own, failing to take the action necessary to make the switch affordable for families hit by a cost of living crisis."
"To back the car industry and create jobs, Labour would bring forward ambitious proposals to spark an electric vehicle revolution in every part of the country."
"By extending the help to buy an electric car for those on lower and middle incomes and accelerating the roll-out of charging points in areas that have been left out, we would ensure that everyone could benefit and make the green transition fair."
Adequate EV charging options will be vital when it comes to challenging perceptions surrounding 'range anxiety'. This is a term that refers to the idea that electric cars aren't able to travel long journeys without losing power and getting stranded.
EV Charge Point Installers
Installing a home EV charge point is a cost-effective, convenient, and safe way to power your electric vehicle. An added benefit of home EV charger installation is that it can manage most of your energy concerns without any input from you. The chargers can even schedule your electric vehicle charging while you sleep.
To enjoy the benefits of a home EV charger, your installation should be done by an experienced EV installation company. Applegarth is an accredited renewable energy solutions company with a track record stretching back well over a decade. We have helped our clients take full advantage of the benefits of low-carbon living and provide high-quality service every time.
Whether you're looking for an EV charge point installation or want to go completely green with added solar panel installation and battery storage, we can help.
Contact us today on 0151 649 8350 or email us at info@applegarth.co.uk, and one of our experienced team members will get you started with an obligation-free quote.